Last week as we strolled through the farmers market a bag of the most enormous pears caught my eye and naturally I had to have them! They have been in my fruit bowl ever since waiting for me to do something with them.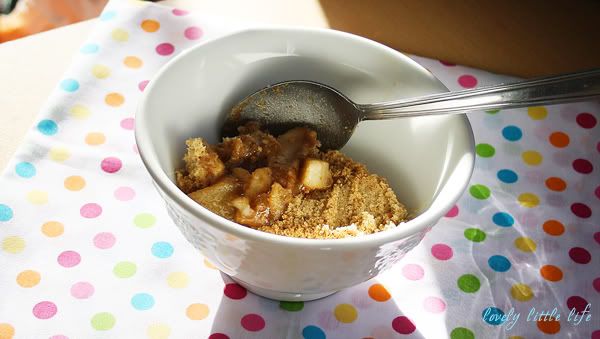 This morning after Emma and I got back from our baby massage class I realised they were starting to over ripen. I have a terrible habit of letting fruit go bad and I am trying very hard to be better.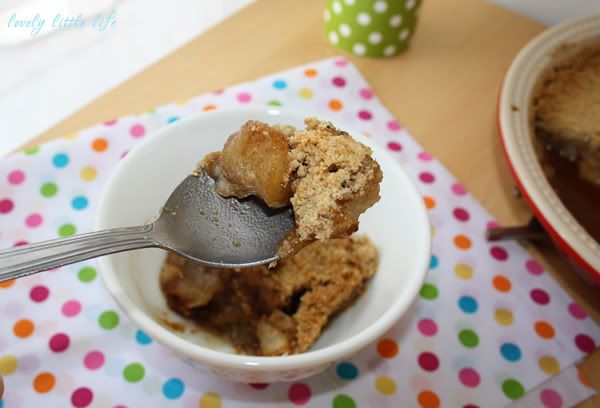 I was racking my brains trying to come up with a spring-y cake or dessert to make with them but all I really wanted was crumble! The more I thought on it the more I fancied a spicy pear crumble fresh out of the oven, however autumnal it may sound! So here it is a dessert made on a whim with a baby on the hip for most of the prep! It was amazing so worthwhile, enjoy!
On a more spring-like side note how gorgeous are these daffies!
x x x X x x x
More from Lovely Little Life :::
Spiced Pear Crumble
By Naomi Published: March 8, 2012
Yield:

9inch Pie Dish (6-8 Servings)

Prep:

15 mins

Cook:

30 mins

Ready In:

45 mins
A warm spicy pear crumble, ideal for blustery autumn weather. Or any weather actually.
Ingredients
Instructions
Preheat the oven to 180°C.

Slice the pears (to any thickness you like, mine were around 0.5cm) and layer them evenly across the bottom of a 9" dish.

Combine the 50g of sugar, cinnamon and ginger. Sprinkle over the pears and stir with a spoon to coat thoroughly.

In a food processor combine the flour, sugar, butter and pinch of mixed spice. Pulse until it resembles fine breadcrumbs. (If you don't have a processor, throw it all in a bowl and rub it together using your fingertips, it will resemble coarser breadcrumbs)

Spread the crumble across the pears and even out, lightly pressing down at the edges with a fork or spoon.

Place in the oven for 30-40 minutes until golden brown and bubbling around the edges.