What a grey and gloomy start to March we've had in our little corner of the world.
This morning I was all prepared to take Emma for a nice little stroll down into the town but with all the drab drizzly weather I found on opening the curtains, I was quite put off. I felt a very sudden need for something warm and cosy instead. Enter the breakfast muffins!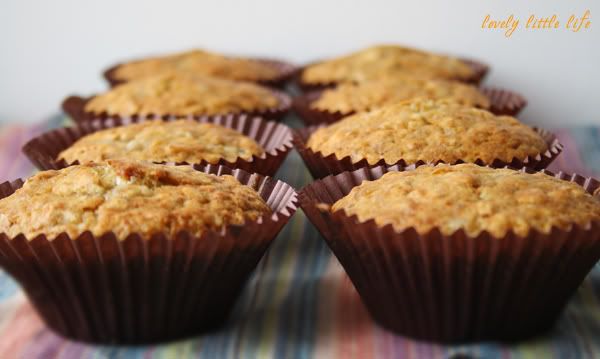 My lovely hubby has been talking about banana oatmeal muffins for a week or so and the idea seemed to fit the bill this morning. I had a quick look around at some recipes but ended up using my own basic muffin recipe with added banana and oats. I did substitute half of the usual sugar amount for honey as I personally love honey (I even have honey in my tea!) and I just think honey and bananas pair together really well.
I also used a wonderful cold pressed rapeseed oil instead of a generic vegetable oil. The brand I use is Borderfields, it is grown in the UK and has a really lovely, slightly nutty flavour (This is not a paid endorsement, I just really like their oil!). It was the nutty flavour that I wanted to highlight the oats in the muffins. However, any vegetable oil will work just as well.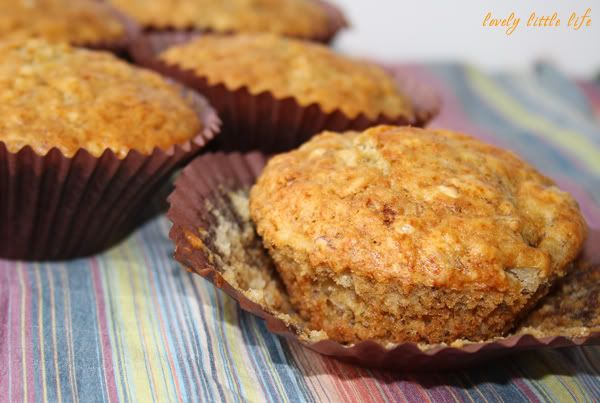 The only other adjustment to my normal recipe was to double the quantity to make 12 muffins. Six muffins just do not last long enough in our house and we are being visited by family later and I like to have something to offer!
Enjoy these muffins with a cup of tea, they are the perfect antidote to a grey and miserable morning!
x x x X x x x
More from Lovely Little Life :::
Breakfast Banana Oat & Honey Muffins
By Naomi Published: March 3, 2012
Yield:

12 muffins

Prep:

15 mins

Cook:

20 mins

Ready In:

35 mins
A beautiful breakfast muffin for grey mornings. Perfect warm from the oven with a cup of tea.
Ingredients
Instructions
Preheat your oven to 190°C

In a large mixing bowl combine the flour, oats, sugar, baking powder, soda and salt.

In a jug lightly beat the egg then add the remaining ingredients, mixing well.

Pour the wet mix into the bowl of dry ingredients. Stir through until just combined.

Divide the mixture between 12 muffin cases. Bake in the oven for 18-20 minutes.