You may have noticed I've been missing in action for a couple of weeks this is because we have been moving home and life became a whirling chaotic mess for a short while. However, we are now relocated in our lovely house that sits on top of the hill our flat was nestled into the base of. Life is still a tad messy and a touch chaotic but the three of us are settling in nicely and our internet access has been restored so I can tell you a little about it!
Moving house has not actually been as stressful as I think I expected, although when the day of the big move arrived to say I was a little less than prepared would be an understatement (to which most of my family would testify I'm sure!). I think deciding to move with a then 6 week old baby and the fact we were leaving our little flat not really sinking in until it happened, are why on the morning of moving day my kitchen was not in anyway packed up and everything was slightly unorganised. This and the fact I discovered I can not stand packing!
None the less, with the help of multiple family members it really did go rather smoothly and here we are in our shiny new home!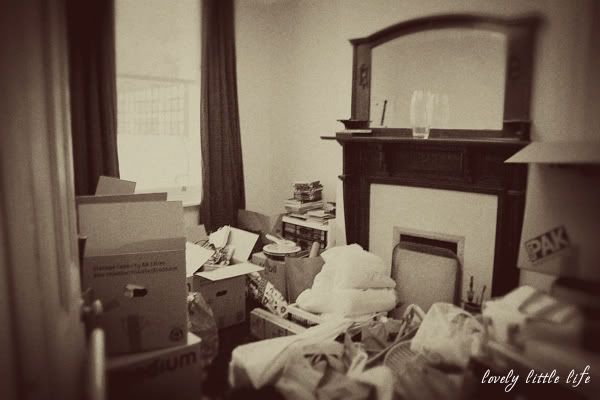 Well, when I say shiny… It will be eventually. This is the current state of our dining room, it is pandemonium and yet I am not finding the task of unpacking as daunting as packing in the first place. Sorting through our things and finding them new and organised homes is something I am rather enjoying taking my time with. The only sadness is that I have such plans for the dining room but it will be the last put to rights.
The first room to be properly organised was the kitchen, it is much bigger than at the flat and I love it. I love that everything now has its own place, unlike the higgledy-piggledy piles of kitchenware I had previously.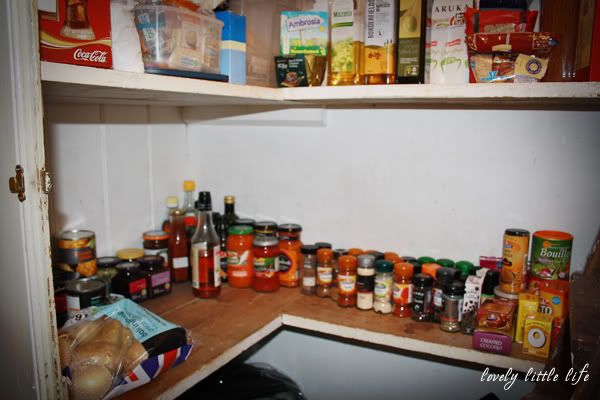 This is the inside of my new larder cupboard. I have a larder! Albeit a modest one but it is a source of constant joy to me… I think I may make a little sign to hang on its door!
I also have a real set of kitchen drawers which may sound silly but our old kitchen didn't have and I really missed them. My two favourite drawers are entirely baking related and I think them very happy looking drawers. I am now starting to wonder how strange this must sound but then perhaps I am a strange person!
Other things I love about this house so far include but are not at all restricted to its original wood floors, an open fire place in both front and dining rooms, and lots and lots of built in storage!
As I unpack more of the house I will show you more rooms but for now I think I shall stop (and feed Emma!) and leave you to my rambling thoughts of house love.
Out of interest do you love where you live? Or do you love the home you have made it? Or perhaps you can't wait to move? Leave me a comment I'd love to hear from you!
x x x X x x x
More from Lovely Little Life :::