This is something I've been meaning to try out for a while. I am so glad I did. It is the polar opposite to a healthy snack but it is a delicious treat. Even better its incredibly simple to make. I apologise in advance if you have made healthy eating resolutions for the new year!
I will definitely be making this again. It needs no baking and contains mostly ingredients that are usually to be found in my cupboards. Not to mention that it is so quick to pull together, I managed it today while my little Emma was taking a cat nap between feeds. Something she has been doing with increasing and exhausting frequency the last few days, I think she is having a growth spurt. The ever growing pile of too small clothes would back this up!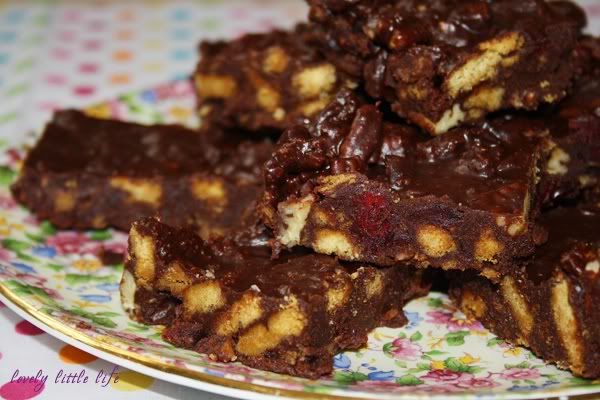 The other thing I love about tiffin is its adaptability. By which I mean you can throw anything you like into it so feel free to experiment, and if you do, be sure to leave me a comment to let me know! I've been considering an almond/cherry version all day!
x x x X x x x
More from Lovely Little Life :::
Orange, Cranberry & Pecan Tiffin
By Naomi Published: January 23, 2012
A simple, no-bake, chocolatey treat.
Ingredients
Instructions
Put the digestives in a large bowl and crush them with a wooden spoon. You are aiming for smallish pieces but not crumbs.

Add the cranberries and pecans to the bowl with the digestives and mix up.

In a heatproof bowl melt the butter with the orange zest. Leave this to one side to let the orange flavour infuse.

In a separate heatproof bowl melt the chocolate and syrup together. You can use a microwave in 30 second intervals so as not to scorch the chocolate. Alternatively use a double boiler.

Combine the melted chocolate with the melted butter and orange zest. Stirring well.

Pour the chocolate into the dry ingredients and stir thoroughly.

Pour the tiffin mixture into a 8"x8" tin lined with baking parchment. Level the mixture and spread into the corners with a spatula.

Place in the fridge to set for at least an hour. Cut into 12 bars and store in the fridge.